Las Vegas Nevada Temple
Unofficial Page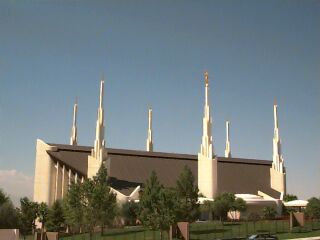 827 Temple View Drive
Las Vegas NV 89110-2920
Phone: 702-452-5011
FAX: 702-453-1263
History
Announced on April 7, 1984.
Groundbreaking on November 30, 1985 by President Gordon B. Hinckley, First Counselor in the First Presidency.
Open House held from November 16 to December 9, 1989.
Dedicated by President Gordon B. Hinckley, December 16 to 18 1989.
It is the 43rd Operating temple.
Location
At the foot of Frenchman Mountain on the eastern edge of the Las Vegas Valley. It is on the northwest Corner of Bonanza Road and Temple View Drive, a little more than two miles east of Nellis Blvd, and 7.4 miles directly east of downtown Las Vegas.
Building
Cost was $18 million, more than half of which was paid by the members in the Las Vegas Temple District. The building is 260 ft. long, 127 feet wide with a total of 80,350 square feet interior space. It has 192 rooms, including four ordinance rooms and six sealing rooms. Highest of six spires is 119 feet, topped by a 10 foot gold-leafed statue of the Angel Moroni.
Temple District
Southern Nevada, portions of California and Arizona.
Temple Grounds
The grounds are open during regular temple hours, and also on Sunday and Monday afternoon and evening until one-half hour after sundown.
Appointments
Please make appointments for: baptisms, initiatory and sealings for the dead; endowments, marriages and sealings for the living; and special group sessions. For scheduling, call 702-452-5011 ext. 144.
Temple Recommends
Temple recommends are required for all individuals to enter the temple, except for children under eight years. A "Recommend for Living Ordinances" is required for own endowments, marriages, and sealings. Family group record forms are necessary when children are to be sealed to parents.
Services for the Hearing Impaired and Languages other than English
Many languages, closed captioning and American Sign Language are available every session. Advance notice is requested.
Youth Center
Reserved for children who are being sealed to their parents.
Clothing
Clean, modest clothing appropriate for sacrament meeting is appropriate for entering the temple. White Temple Clothing for working in the temple is available for rental at the temple or may be purchased at the Beehive Clothing Distribution Center on the Temple Grounds. Clothing is available without charge for missionaries receiving their own endowments.
Distribution Center
(Ancillary Building north of temple)
827 Temple View Drive
Las Vegas NV 89110
702-438-3666
Public Transportation
Route 208 (East Washington). Call Citizens Area Transit at 702-228-7433 for schedule.
Pictures of the Las Vegas Temple

Back Home
---
2 May 2009 by Rawlin Blake
Pictures and text © 1995 by Rawlin Blake